09 July 2008
Firsts in sectarian conflict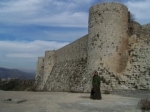 An illicit affair between a 17-year-old Coptic man and an 18-year-old Muslim married woman from the town of Tamiya in Fayoum resulted in Muslim demonstrations and the torching of Copts' property last week. A Coptic-owned supermarket, timber store, and kiosk were
torched, an attempt was made to set a gas station aflame but the fire was quickly put out. Two Coptic-owned cars were damaged, and two young men attacked.
The security authorities, however, played a positive role in containing the situation. They heightened security in town, confiscated motorcycles and tuk-tuks since these were used to throw fiery balls at the Copts' shops, and detained scores of Muslim suspects. Eighteen of them were referred to the prosecution for investigation. They were charged with arson, mobbing, and ridiculing religion—the first time such a charge is levelled at suspects. The deputy prosecutor Wa'el Abdel-Hamid told Watani that the suspects were in the age group of 15 – 25 years old, most of them were uneducated, and none were related to the woman in question.
On Tuesday a reconciliation meeting was held in the town and was attended by more than 50 of the elders of the Muslim and Coptic families, as well as Fr Rufail Samy and MP Ahmed Abdel-Qawi. A written agreement was reached by which the Coptic young man on whose account the violence erupted was banished from town. It was also decided that Copts should be indemnified for the losses through community donations and that, if any such situation arose in the future, the same rules should apply.
posted by / http://www.wataninet.com