15 July 2008
Three British Muslims admit bid to bomb Heathrow and Commons with liquid explosives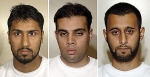 Three British Muslims yesterday admitted plotting to explode a homemade bomb at the Houses of Parliament in protest at the UK's role in Iraq and Afghanistan.
The men and two others also admitted conspiring to cause public nuisance by distributing Al Qaeda- style videos threatening suicide bomb attacks in Britain.
But prosecutors claimed they made 'inherently improbable' and 'bogus' confessions to these charges to distract attention from the main allegations - a plot to blow up airliners flying from Heathrow to major U.S. cities.
They accused the men of being in a gang wanting to kill thousands of passengers by detonating liquid bombs in a wave of mid-air explosions.
A jury at Woolwich Crown Court, South-East London, must still decide if the five men, plus three others, are guilty of an unprecedented suicide bomb conspiracy.
Prosecutor Peter Wright QC said the conspirators were fanatics who believed they would achieve immortality through mass murder.
He said: 'What they intended was to shock the world, not merely by the nature of the acts but also by the fact that such actions could be committed by apparently ordinary law-abiding citizens.
'This was part of the message. A statement of the strength of resistance to perceived Muslim oppression.'
The guilty pleas came before prosecution barristers summed up their case as the three-month trial drew to a close.
The eight men face two revised charges of conspiracy to murder, with one specifying that the attacks would involve detonating improvised bombs on aircraft.
In their defence, Ali and Sarwar said they planned to record an internet documentary highlighting injustices against Muslims in Iraq, Afghanistan and Lebanon.
Ali said he considered exploding a small device at the Houses of Parliament or Heathrow as a publicity stunt. He claimed martyrdom videos recorded by six of the defendants were a hoax to make the documentary more shocking.
But Mr Wright said: 'This was for real. Human beings ready, able and willing to commit carnage for the sake of Islam.
'They saw it as an opportunity to set an example to others to follow their lead. A warning to the public that they were vulnerable, at home or abroad.
'Each was prepared to kill on a wholly indiscriminate basis without the blink of an eye.'
Mr Wright said the men were 'almost ready to go' in August 2006 with bomb-making equipment in place, targets identified and suicide bombers lined up.
But he outlined how counter-terrorist police were monitoring the gang with surveillance teams and a bug at their base.
The prosecutor said the gang had enough hydrogen peroxide and other materials to make at least 20 soft-drink bombs and intended the wave of attacks to be unstoppable.
He said: 'It was to be an attack that was co-ordinated and, once they were airborne, irreversible.
'All that the people on the ground could do was hope and wait while those aircraft disappeared from their screens.' Final speeches by defence lawyers begin today.
Abdulla Ahmed Ali, 27, of Walthamstow, East London, Tanvir Hussain, 27, of Leyton, East London, and Assad Sarwar, 28, of High Wycombe, Buckinghamshire, pleaded guilty to conspiracy to cause explosions.
They also admitted conspiring to cause a public nuisance with Ibrahim Savant, 27, of Stoke Newington, North London, and Umar Islam, 30, aka Brian Young, of Plaistow, East London.
The other defendants are Mohammed Gulzar, 26, of Barking, East London, and Arafat Waheed Khan, 27, and Waheed Zaman, 24, both of Walthamstow, East London.
No comments are permitted on this story as legal proceedings are underway
POSTED BY / www.dailymail.co.uk/