17 September 2006
Nun killed in Somalia may be tied to pope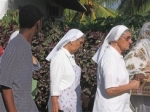 MOGADISHU, Somalia, Sept. 17 (UPI) -- Gunmen killed an elderly Italian nun outside a children's hospital in Mogadishu, Somalia Sunday, police said.
The attack raised immediate speculation it was tied to Pope Benedict XVI's recent remarks about Islam, which drew strong criticism in Somalia from a radical Muslim cleric, the BBC reported.
Sister Leonella Sgorbati of the Missionaries of the Consolation order, based in Nepi, Italy, near Rome, died in an operating room after being hit with three or four bullets in the chest, stomach and back, doctors said.
Her bodyguard was also killed in the attack.
A Vatican spokesman called the killing "a horrible act," which he hoped would remain isolated, the BBC reported.
Police said two people had been arrested.
Hardline Somali cleric Sheikh Abubakar Hassan Malin told worshippers at his mosque Friday to hunt down and kill whoever offended the Prophet Mohammed, founder of Islam.
The Italian government said the nun had been repeatedly advised to leave Somalia, which was once ruled by Italy.
http://upi.com/NewsTrack/view.php?StoryID=20060917-111439...