10 October 2008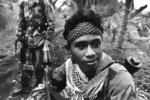 MANILA, PHILIPPINES (BosNewsLife)-- Christians in the southern Philippines feared more attacks Tuesday, October 7, a day after the European Union said it would extend seven million euros, or almost 10 million dollars, in emergency aid for people displaced by the Muslim insurgency in the area.
11 August 2008
The Philippine military has attacked Muslim rebels holed up in Catholic farmlands in the south prompting hundreds to flee their homes
06 August 2007
12 June 2007
29 March 2006
The Abu Sayyaf terrorist group had initially targeted the Jolo Cathedral in its Monday bombing attack that left five people dead and 20 others wounded but was forced to alter its plans, police investigators revealed yesterday
20 February 2006

CWNews.com– A deadly attack leaves six Christians dead in the southern Philippines. The incident took place on the island of Jolo earlier this month. It devastated one Christian community.
03 February 2006

Suspected Abu Sayyaf gunmen knocked on door in a farm in Patikul, Mindanao, and opened fire after asking residents if they were Christian. Six people are confirmed dead, including a nine-month baby girl, and five others are seriously wounded.