10 October 2008
Christians Fear More Islamic Attacks In Southern Philippines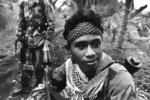 MANILA, PHILIPPINES (BosNewsLife)-- Christians in the southern Philippines feared more attacks Tuesday, October 7, a day after the European Union said it would extend seven million euros, or almost 10 million dollars, in emergency aid for people displaced by the Muslim insurgency in the area.
The announcement by the EU, described as one of the largest sources of official development aid to the predominantly Roman Catholic southeast Asian country's Muslim region, followed similar pledges of more aid from United Nations agencies. Yet Christian families on the island
of Mindanao have told reporters that they remain concerned amid reports Islamic rebels could attack them at midnight.
In a statement, the European Commission Head in Manila, Alistair MacDonald, urged the government and the Moro Islamic Liberation Front (MILF) to end the fighting on the island of Mindanao and resume peace talks.
Fighting flared up in August after the Supreme Court suspended a draft agreement that could have led to a peace accord with the 12,000-member MILF, which has been waging a four decades-old campaign to set up an Islamic state. Christians have made clear they
state and want to remain within the Philippines.
CHRISTIANS ATTACKED
In response MILF rebels attacked Christian communities, reportedly burning and looting homes and killing civilians in fighting that has claimed about a hundred lives and forced half a million people to flee their homes.
About 100,000 are still in evacuation centres, French News Agency AFP said.
Fighting has continued in the area. In the latest incident, three Filipino soldiers were wounded when a military convoy hit a landmine near Valencia city over the weekend, the Philippine army reportedly said.