06 August 2007
80% of Muslims in Mindanao sympathetic to Sayyaf, says lawmaker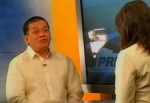 The lone congressman of war-torn Basilan has revealed 80 percent of Muslims in Mindanao are "sympathetic" to the
bandit group Abu Sayyaf, which gained international notoriety for kidnapping foreigners and beheading its captives.

Basilan Rep. Wahab Akbar made the claim in a privilege speech as he insisted that some armed groups are riding on the notoriety of the Abu Sayyaf and adopted its brutal methods.

Akbar insisted that those behind the July 10 ambush of Marines, 10 of whom were beheaded, were not Abu Sayyaf but common criminals who are sympathizers of the bandit group.

"Before this august body, I would claim that 80 percent of the Muslims are sympathetic to the Abu Sayyaf," said the former three-term governor of Basilan in a privilege speech before his colleagues in the House of Representatives last week.

He said some criminal syndicates took up the cudgels for the Abu Sayyaf just to gain media attention.

At the same time, Akbar urged the media to "refrain" from reporting the presence of the Abu Sayyaf in Basilan, insisting that the remaining armed groups are merely espousing "Abu Sayyaf-like attitude."

He said some members of the Abu Sayyaf still come and go to Basilan but maintained "no Abu Sayyaf lairs" exist in the province.

A self-confessed smuggler and deputy commander of the Moro National Liberation Front (MNLF), Akbar said he resented being tagged as co-founder of the terror group.

"Nung buhay pa sila, problema ko na, hanggang sa patay na sila, problema ko pa rin (When they were still active, it was my problem but now that they are dead, they are still my problem.) This accusation (of being a co-founder of Abu Sayyaf) is from time to time repeated in the media," Akbar said. "Abu Sayyaf now is nowhere to be found."

The problem with his name, Akbar pointed out, is "whenever there is an encounter between the armed groups and the military, the armed groups always shout Allahu Akbar (God is great) which is sometimes construed as my presence during the battle."

According to Akbar, he became more popular because his name is often called out in clashes with government troops.

"Like for example the case of the previous Albarka incident. That's how popular my name is and even in the battlefield the rebels are campaigning for me but it's in a wrong time and place because the election is already over," he said.

Akbar, like other Muslim lawmakers, is opposing the government's planned "punitive action" against Moro rebels in Basilan.

"Pursuing peace through war cannot be a solution and can never be employed as an effective means to an end," he said.

"Solving the problem by inflicting more damage on both sides is not solving the problem at all. Rather, it is aggravating the problem and driving the tamed civilians to become untamed. This policy to me is distraction and not attraction," he said.
POSTED BY /http://www.abs-cbnnews.com