25 March 2017
Ohio: Accused Killer Nasser Hamad Invokes 'Islamophobia' Defense in Double Homicide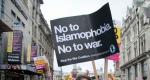 Thousands of protesters march through central London against Racism Islamophobia, Prejudice and Anti Semitism UN Anti-Racism Day demonstration, London, UK - 18 Mar 2017 (Rex Features via AP Images)
An ongoing domestic dispute fueled by Facebook threats from an accused killer led to an ambush by Nasser Hamad. This resulted in the shooting deaths of two victims and the wounding of three others:
Now Hamad has attacked the victims in court, saying that they were a "terroristic group set firmly against Hamad because he was an Arab and a Muslim":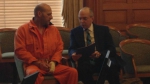 The killings occurred on February 25 outside Hamad's home in Warren, Ohio. He fired into the van occupied by the victims. There is no indication the victims had a weapon of any type:
Earlier this month, a Trumbull County judge set bail for Hamad at $5 million, despite Hamad's claims he was being charged solely on the basis of his race. But his bond was later revoked at the request of prosecutors:
n attorney associated with Hamad's family appeared at the March 2 hearing. Afterwards, attorney Geoffrey Oglesby told the media that the charges were based on racism:
It seems like when minorities stand their ground they get charged, ok, and it appears to be, I hate to say it, based on his ethnicity in this particular case. And it is truly unfortunate.
In court this week, the admitted killer justified the shootings by invoking an "Islamophobia" defense and he even called on prosecutors to charge the victims with hate crimes:
The Youngstown Vindicator reports:
Hamad "acknowledged" that the fight had ended at the point where he went into the house and retrieved his gun, the filing says. He also acknowledged that the five were in the van when he walked the 70 feet from his front door to the van and fired nine to 10 shots at the five.

When the bullets ran out, Hamad went back into the house and got a second ammunition magazine. "Again, he did not call 911, lock himself securely in his home and wait for police," the filing says.

When he arrived at the van a second time, he fired the fatal shot into the back of Josh Haber, 19, while Haber tried to get back into the van. He also fired at Shively and Hendrickson as they fled on foot, the filing says.

Joshua Williams, 20, later died at the hospital. April Trent Vokes, 42, suffered serious injuries, as did Hendrickson. Shively was grazed by a bullet.