16 March 2017
There Have Been 1,500 Acid Attacks Since 2011 In... London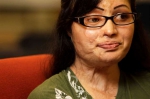 Jaw-dropping numbers released earlier this week show that there were 1,500 acid attacks in London from 2011 to 2016. In what's even
more disturbing news, the frequency of the attacks seems to be increasing--2016 alone accounted for 431 attacks, compared to 261 in 2015. Overall in the whole of the United Kingdom, these attacks have risen 50 percent in the past decade.
Unlike the rest of the world, where the victims of acid attacks are primarily women, an estimated seven out of 10 victims of acid attacks in London are male. They are believed to be connected with gang activity. A former gang member said that acid attacks had become "acceptable" due to the ease of acquiring the components necessary to create the weapon.
Jaf Shah, the executive director of the support group Acid Survivors Trust International (ASTI), told the Guardian: "Looking at the data in general, there is a fairly large probability that a high percentage of the incidents are male-on-male attacks and most likely to be gang-related.

"The numbers appear to be very high and suggest an increase, which is very concerning."

A former gang member described how acid attacks had become more acceptable and were not seen as a "big deal".

"People don't think of the consequences," he said. "It's easy to buy most of the ingredients legally…One of my cousins was done a few years ago. He was attacked on his shoulder and my uncle just dressed it for him at home.
It goes without saying that these are disturbing figures, especially for a major city in the western world. Acid attacks are barbaric, and they have no place in any society.