19 January 2017
Migrant 'Children' Rape a Real Child in Sweden…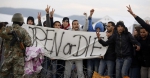 DOMESTIC. Two so-called unaccompanied refugee has requested arrested on suspicion of rape of a child in a home in HVB Dalsjöfors in Borås municipality.
The two suspects, both of which claim to be 16 years come from Afghanistan, is accused of raping a boy under 15 years. The crime must have occurred at an accommodation where all the boys live together, writes Borås Tidning .
Arrest Submission, as Free Times has obtained, show that the two suspects have the same first name. The rape should have taken place up Humlegårdsgatan in Dalsjöfors, between 20:30 to 21:00 January 8, 2017.