19 January 2017
Germany: Muslim translators deliberately misinterpreting Christians to get them deported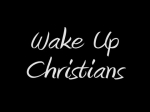 In a damning verdict on Germany's Ministry for Immigration and Refugees (BAMF), Rev Gottfried Martens said Afghan and Iranian migrants who convert to Christianity are subject to "kangaroo court" hearings where "almost exclusively Muslim translators" falsely translate their responses….. He also said Muslim translators "deliberately stick the knife in our congregational members by falsely translating what they say".
Muslims deem converts to Christianity among the migrants to be apostates whose conversion works against the Islamic supremacist plan of dawah and hijrah, so these trusted Muslim translators have no qualms about being deceitful in order to get Christians deported. Meanwhile, Muslim migrants are the ones raping women. They are the ones responsible for the crime surge in Europe, and remain a threat to homeland security through jihad attacks.
Reverend Martens' call for Christian migrants to be housed separately from Muslims seems to be falling on deaf ears:
He called for Christian migrants to be housed separately to Muslims, and strongly criticised Catholic and mainline Protestant leaders who oppose this on the basis it may show the religions cannot exist peacefully.
Just as mainline churches largely ignore the extent of Christian persecution in Islamic states, they are apparently doing the same in their home country, by not speaking out in truth and justice and failing to protect peace-loving Christians:
In February we experienced how a group of almost 100 radical Muslim asylum applicants attacked six Christians so brutally in their residence that the police ended up having to use their dogs to protect the six Christians from a pogrom."
"Muslim Translators Deliberately Misinterpreting Christians to Get Them Deported, Says Pastor", by Nick Hallett, Breitbart, January 17, 2017:
Muslim translators are deliberately misinterpreting migrants who converted to Christianity in order to get them deported, a Berlin pastor has said.

In a damning verdict on Germany's Ministry for Immigration and Refugees (BAMF), Rev Gottfried Martens said Afghan and Iranian migrants who convert to Christianity are subject to "kangaroo court" hearings where "almost exclusively Muslim translators" falsely translate their responses.

Rev Martens, who has baptised over 1,000 former Muslims since the start of the migrant crisis, sais officials who hear the cases are poorly trained, receiving little more than a three-week course.

In a letter to supporters, the pastor wrote: "Many are manifestly clueless about the situation of Christians in Iran and Afghanistan, and worse yet they are utterly clueless concerning questions relating to the Christian faith."

"But all of this does not prevent them from assuming the role of self-appointed experts, whose questions 'unmask' the supposedly deceitful Iranian asylum applicants one after another, even when those hearing the cases don't even know the difference between the Creed and the Our Father."

He said the newly-converted applicants are often asked unreasonably difficult questions about their new faith, including the names of the two sons in the parable of the Prodigal Son, or how Martin Luther died.

"In this way Christians who learned the first elements of the Christian faith in their house church in Iran are well and truly hung out to dry," he said.

He also said Muslim translators "deliberately stick the knife in our congregational members by falsely translating what they say".

He called for Christian migrants to be housed separately to Muslims, and strongly criticised Catholic and mainline Protestant leaders who oppose this on the basis it may show the religions cannot exist peacefully.

Breitbart London reported in February how six Christians were attacked in their asylum accommodation, but ended up being expelled themselves.

The pastor referred to this incident in his letter, saying:

"In February we experienced how a group of almost 100 radical Muslim asylum applicants attacked six Christians so brutally in their residence that the police ended up having to use their dogs to protect the six Christians from a pogrom."

"As almost always happens in such cases, a few days later the six Christians were banned from the institution that housed them."