21 January 2013
US rape case: Bail set at $1.22m for Saudi sergeant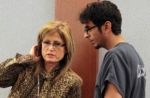 Las Vegas: Despite a defence attorney's complaints, a judge in Nevada on Friday set bail at $1.22 million for a Saudi air force sergeant jailed since New Year's Eve on a rape charge.
Mazen Al Otaibi is accused of sexually assaulting a 13-year-old boy in a Las Vegas Strip hotel room.
Defence attorney Don Chairez said his client Al Otaibi "probably" could post what Chairez called the "extraordinarily high" bail, surrender his diplomatic passport and be freed pending an evidentiary hearing January 31.
But Chairez said he would recommend to Saudi authorities that the 23-year-old aircraft mechanic remain in jail until a January 31 evidentiary hearing. The money would be better spent investigating the charges and preparing Al Otaibi's defence, he said.
Outside court, however, Chairez alleged that his client was treated unfairly by police. The lawyer claimed that Al Otaibi was too drunk on December 31 to surrender his right to have a lawyer present during questioning.
"Somebody who's under the influence cannot give up his right to an attorney," Chairez contended.
Al Otaibi stood in court with an Arabic language interpreter and said nothing while Las Vegas Justice of the Peace Bill Kephart called the allegations against him "appalling". The judge noted that if Al Otaibi fled the country, the US and Saudi Arabia do not have an extradition treaty to bring him back.
"I don't know the truth of either side here," said Kephart, who will make the decision whether to move the case to state court if there is enough evidence for trial. The judge noted that Al Otaibi faces "substantial consequences" if convicted.
Chairez said Al Otaibi will plead not guilty to all charges.
Prosecutors added two lesser charges on Friday alleging lewdness with a minor to the kidnapping, sexual assault with a minor, coercion and burglary charges that could put Al Otaibi in prison for life if he is convicted.