21 January 2013
Spain: North Africans and Sub-Saharans Kidnap and Gang-Rape a Mentally Subnormal Woman for 5 Days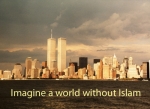 The captors of Irene Ayllón, the young mentally handicapped woman kidnapped and sexually assaulted by the "okupas" of a building in the Malaga capital, took turns guarding her to prevent her from escaping. They did not even hesitate to resort to violence to keep her submissive and it has been determined that they had an "extensive policy history".
The investigations of the Homicide Group of the Malaga Provincial Police are continuing to clarify an investigation with extremely unpleasant elements. When reconstructing what occurred during the five days that elapsed between the disappearance of the young woman and her liberation, the agents were able to add a new piece to the puzzle. According to sources close to the case, the young woman was approached by the persons arrested around the Huelin park area, from where they took her "by force" to an "occupied" building located in Marqués de Valdeflores street in the capital of Malaga. One aspect of what they are working on now is to know when this happened because, despite the fact that the police think it took place last Thursday, the victim has problems of temporal perception and has not been able to be more specific about it.

Another aspect that the investigators have raised to the category of certainty is that Irene suffered repeated sexual assaults during her captivity. This has been demonstrated by a "solid" account in which she discussed unpleasant details of her captivity and which it is believed could not have been invented by someone with her handicap. This declaration has to be balanced against the contrary fact that the medical examination carried out did not find any obvious signs of rape, such as internal tears or other injuries. The sources mentioned make it clear that everything points to the fact that the young woman, 24, because of her mental handicap and the intimidation of her captors, did not resist.

The investigation is now trying to determine how many of the persons arrested participated in the sexual assaults and who approached her in the park. One fact that it has been possible to establish from the police database is that the people arrested - six men and one woman of North African origin - have an "extensive criminal record" for various crimes.

The key to the resolution of the kidnapping was an "okupa" of the building who, on passing through the flats where the persons arrested were living, thought he saw a woman who looked like Irene and who was being beaten.