25 December 2012
Gunmen kill six at Nigerian Christmas service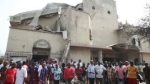 northern Nigeria during a midnight mass on Christmas Eve, killing six people including the pastor, before setting the building ablaze, residents and police said Tuesda Gunmen attacked a church in
Gunmen killed six people attending midnight mass at a church in northern Nigeria on Christmas Eve, police and residents confirmed on Tuesday.
"A group of gunmen came into the village at midnight and went straight to the church... they opened fire on them, killing the pastor and five worshippers. They then set fire to the church," said Usman Mansir, resident of Peri village, near Potiskum, the economic capital of Yobe state.
Mansir specified that a branch of the Evangelical Church of West Africa (ECWA) was the congregation that was targeted.
A senior police official in Yobe confirmed the details to AFP, but declined to be named.
Boko Haram Islamists have carried out several attacks in Yobe, which borders the state of Maiduguri, where the insurgent group is based.
The Islamists are blamed for killing hundreds of people in northern Nigeria since 2009. It was not clear who was behind the latest violence.
While Yobe's population is overwhelmingly Muslim, the commercial hub of Potiskum has a significant Christian minority. Peri is just two kilometres outside the city.
(FRANCE 24 with wires)