25 December 2012
Christmas brings fear of church bombs in Nigeria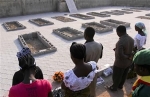 MADALLA, Nigeria (Reuters) - Kneeling over a dusty grave on the outskirts of Nigeria's capital, 16-year old Hope Ehiawaguan says a prayer, lays down flowers and tearfully tells her brother she loves him.
He was one of 44 killed on Christmas Day last year when a member of Islamist sect Boko Haramrammed a car packed with explosives into the gates of St Theresa's Church in Madalla, a satellite town 25 miles from the center of Abuja.
Boko Haram has killed hundreds in its campaign to impose sharia law in northern Nigeria and is the biggest threat to stability in Africa's top oil exporter.
Two other churches were bombed that day and on Christmas Eve 2010 over 40 people were killed in similar attacks.
This Christmas, the police and military are expecting more trouble in the north. They've ordered security to be tightened, people's movement restricted and churches to be guarded.
But such is the commitment to religion in a country with Africa's largest Christian population that millions of people will pack out thousands of churches in the coming days. It is impossible to protect everyone, security experts say.
"I feel safe," Ehiawaguan says with uncertainty, when asked if she will come to church on December 25 this year.
"Not because of security here ... because we have a greater security in heaven," she says, wiping away her tears.
The blast in Madalla killed several people on the street and pulled down the church roof, condemning many of those trapped inside the burning building, including a 7-month old boy.
A plaque listing the names of the members of the church who were killed has been placed above their graves. The twisted metal of the cars destroyed in the blast is still there.
"I only pray to God to give them a heart," Ehiawaguan says, when asked about her brother's killers.
Security experts believe Boko Haram is targeting worshippers to spark a religious conflict in a country of 160 million people split roughly equally between Christians and Muslims.
SECTARIAN THREAT
The sect has also targeted Mosques in the past and assassinated Imams who have questioned its insurgency. In the group's stronghold in the northeast, where most of its attacks occur, Muslims are equally at threat as Christians.
The fear for many is that more Christmas Day attacks could spark the sort of tit-for-tat sectarian violence between the mostly Muslim north and largely Christian south, which has claimed thousands of lives in the past decade.
"We have always insisted that Christians should not retaliate," said Sam Kraakevik Kujiyat, chairman of the Christian Association of Nigeria in Kaduna State, one of the areas worst hit by inter-religious violence in recent years.
"But there is fear ... we know not everyone who says he is a Christian acts like one."
Churches were emptier than usual on Sunday in northern cities of Kano and Kaduna, local residents said.
Despite bolstered security in cities across the north, dual suicide bombers attacked the offices of mobile phone operators India's Airtel and South Africa's MTN in Nigeria's second-largest city Kano on Saturday.
The bombers died but no civilians were killed.
No one took responsibility for the attacks but Boko Haram has targeted phone firms before because they say the companies help the security forces catch their members.
At least 2,800 people have died in fighting in the largely Muslim north since Boko Haram launched an uprising against the government in 2009, watchdog Human Rights Watch says.
Boko Haram has showed since its insurgency intensified more than two years ago that it can find weaknesses in defenses.
"One faction of Boko Haram has made several attempts to provoke violence between Christians and Muslims," said Peter Sharwood Smith, Nigeria head of security firm Drum Cussac.
"Unfortunately, I think it is very possible we may see attacks of this type (Church bombings) again."
Boko Haram is not the only threat in northern Nigeria.
Islamist Group called Ansaru, known to have ties with Boko Haram, has risen in prominence in recent weeks. It claimed an attack on a major police barracks in Abuja last month, where it said hundreds of prisoners were released.
The group said on Saturday that it was behind the kidnapping of a French national last week and it has been labeled a "terrorist group" by Britain.
(Additional reporting by Afolabi Sotunde and Abraham Achirga in Madalla and Isaac Abrak in Kaduna; Writing by Joe Brock; Editing by Anna Willard)