18 December 2012
'Militants' threaten Pakistan church school for Malala support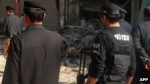 Authorities in Pakistan have held three people over a threat to bomb a church school in Islamabad unless it paid them $51,000 (£38,000), officials say.
A letter sent to the school, apparently by a little-known militant group, demanded cash for not bombing it.
It accused the church school of offering prayers for Pakistani schoolgirl Malala Yousafzai, who was injured by a Taliban gunmen in October.
Correspondents say this is being taken seriously by Pakistani intelligence .
The letter was received by the school in November and intelligence officials are still investigating.
It warned the church administration that they would be "responsible for the consequences" if they reported the cash demand to the authorities.
The three arrests were made in Khyber Pakhtunkhwa province, police say.
The BBC's Shahzad Malik in Islamabad says that the letter was sent by a previously unknown group called the Khyber Pakhtunkhwa Suicide Attackers Group.
Our correspondent says that while the Pakistani Taliban generally assumes responsibility for militant attacks, insurgent groups operating in the field often chose a variety of different names.
There are numerous instances where these groups have carried out attacks claimed by the Pakistani Taliban, our correspondent says.
A church official told the BBC on condition of anonymity that with Christmas approaching, the number of worshippers visiting the church and its school would rise - and that the authorities needed to enhance security.
Security around the church has been increased during daytime hours.
Doctors in the UK city of Birmingham, where Malala Yousafzai is being treated, say she is continuing to make progress.
She and two other schoolgirls were attacked as they returned home from school in Mingora in the Swat Valley in north-west Pakistan on 9 October. The other two girls are in Pakistan are also recovering from their injuries.
The gunman who boarded the van in which she was travelling asked for her by name before firing three shots at her.
Malala, 15, is widely known as a campaigner for girls' education in Pakistan.
In early 2009 she wrote an anonymous diary for BBC Urdu about life under the Taliban, who had banned all girls in her area from attending school.