18 December 2012
Denmark: "'Youths' in Muslim-dominated area demand money from church for being in 'their area'"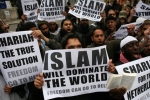 Having worked in Copenhagen's youth prison, I know that the only gangs that rule in Nørrebro, Copenhagen, are Muslim -- Blågårdsbanden and Brothas are two of them. JihadWatch has earlier reported on Muslim extortion against non-Muslim businesses
on Nørrebro: Denmark: 67-year-old female bar owner becomes national hero for standing up against Muslim mafia's jizya demand.
Read more about the Muslim area Nørrebro in Copenhagen on JihadWatch here.
Translated by Nicolai Sennels, Ekstrabladet December 13, 2012, "Extortion against church on Nørrebro":
A new case of extortion in Nørrebro in Copenhagen has been reported to the police. This time the claim is not directed at a tavern, but a local church.

In August this year extortion against Café Viking in the same area caused outraged across the country, as the courageous owner, Jane Pedersen, came up against bullies and went public after threats and vandalism.

Now the criminals have turned against the Holy Cross Church on Kapelvej in the heart of Nørrebro, a few hundred meters from Blågårds Plads.

Three young boys met up twice this week at the rear entrance to the church. Here they notified the verger that the church was in their territory and therefore has to pay money.

Mikkel Gabriel Christoffersen, president of Blågårdsplads parish, confirms to ekstrabladet.dk that the church has reported the matter to the police.

"Three youths visited our employees Tuesday and Wednesday and asked for money, because the church is in 'their' area. They got a clear no, and since the we have not seen more of the boys,' says Mikkel Gabriel Christoffersen."