22 November 2012
Would-Be Jihadists Arrested by Los Angeles FBI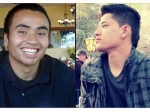 Frontpage recently noted that the Federal Bureau of Investigation has been handing out awards to mosques.
Frontpage should also note that the FBI has not neglected its undercover work against terrorism. That work has now culminated in the recent arrest of four Muslims eager for "violent jihad."
The more I think about it, the more it excites me. . . I wanna do C-4s if I could put one of these trucks right here with my, with that. Just drive into, like, the baddest military base. . . If I'm gonna do that, I'm gonna take out a whole base. Might as well make it, like, big, ya know.
That is from FBI surveillance of Miguel Alejandro Santana, a 2010 convert to Islam and Mexican national awaiting U.S. citizenship. Also arrested were: Sohiel Omar Kabir, 34, a naturalized U.S citizen born in Afghanistan who served in the U.S. Air Force from 2000-2001; Ralph Deleon, 23, of Ontario, Ca., a resident alien born in the Philippines; and Arifeen David Gojali, 21, a U.S. citizen from Riverside, California.
According to
the FBI complaint of November 16
, Kabir recruited the others with the violent jihad doctrines of
Anwar al-Awlaki
, an al-Qaida leader killed in 2011. The FBI also notes a fatwah issued by Ayman Al-Zawahiri, that calls "on every Muslim who believes in God and wishes to be rewarded to comply with God's order to kill the Americans and plunder their money wherever and whenever they find it."
The FBI complaint goes into considerable detail on the recruits' weapons training, name changes, travel plans and so forth. The surveillance also revealed their keen interest in killing on behalf of al-Qaida and the Taliban. That was most pronounced in Miguel Alejandro Santana who said he "accepted Islam without knowing anything about it other than it was the truth." It was a place where he could "fit in and actually be able to fight for something that's right." In his old life, he said, he always looked for violence.
Santana outlined seven or eight targets including the U.S. Air Force, the UN and "yahud," (Jews), mercenaries and private contractors. He wanted to "help the brothers pave the way to Jerusalem" and told the others "I'd cut all their throats if I ever had the chance."
Asked how it would feel to take an "American, British, Jew, a wack Muslim ok and take him out," Santana replied that he had "no problem before taking life. I don't know why I would have a problem now." It didn't matter if those he killed had a wife and kids. "It's gonna feel good insha'Allah," the Muslim convert said.
Santana also said Yemen was a good place because "they actually take over the cities and enforce sharia law." But some Muslims needed to be "taken out" because they were not on the right side.
In the same vein, Ralph Deleon said he would not have a problem killing "if it's for Allah. . . The least I can do is blow his brains out and send him to janannam (hell)." De Leon said that Omar Kabir was "basically a mujahid walking the streets of LA." Arifeen David Gojali told Deleon "the shit just got real, son." He wasn't kidding.
The four eager jihadists booked flights from Mexico City to Istanbul but were arrested on November 15 only two days before departure. If convicted they face 15 years in prison for plotting to kill Americans and destroy U.S. targets overseas, title 18 United States Code, Section 2339A as the FBI complaint says. But the FBI surveillance revealed more than a terrorist plot.
If a man of 21 told US. Army recruiters he wanted to join the military in order to kill Muslims, along with Americans who didn't have the right beliefs, he would be shown the door. With Islamic jihad recruiters, on the other hand, the desire to kill is the primary qualification, and a violent past a positive asset. In violent jihad, as in George Orwell's Animal Farm, rats are comrades.
"I'd cut all their throats if I ever had the chance," Miguel Alejandro Santana said. "It's gonna feel good insha'Allah."
Freedom Center pamphlets now available on Kindle: Click here.