22 November 2012
Rimsha Masih: Blasphemy charges dropped against Christian girl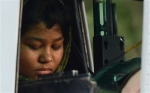 A Pakistani court has dropped all charges against Rimsha Masih, a young Christian girl who provoked a global outcry when she was arrested for blasphemy in August.
The 14-year-old was detained when a neighbour claimed she had burned pages of a religious book. She spent three weeks on remand in an adult prison.
However, she was freed on bail after witnesses said she had been framed by a local Muslim prayer leader.
The case, involving an illiterate girl from a persecuted minority, sparked calls for reform of Pakistan's harsh blasphemy laws, which carry the death penalty and which are used frequently to settle personal scores.
At a hearing at Islamabad High Court, Chief Justice Iqbal Hameed-ur Rehman threw out the case, citing a lack of witnesses.
Paul Bhatti, Pakistan's minister for national harmony and one of Rimshaメs most prominent supporters, said he was delighted by the decision.