08 November 2012
Woman gets probation after 'beating daughter and burning her with hot spoon' for speaking to a boy at school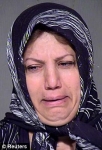 An Iraqi mother was sentenced to two years' probation after she was accused of beating her teenage


daughter because the girl refused to go along with an arranged marriage and was spotted talking a male student at her high school.

Yursah Farhan, 51, who lives in Phoenix, Arizona, was spared jail time in exchange for a guilty plea to unlawful imprisonment of her daughter, 19-year-old Aiya Altameemi.
The girl's father, Mohammed Altameemi, 46, also received two years' probation for disorderly conduct, and her 18-year-old sister, Tabarak Altameemi, received the same sentence for assault.
Prosecutors said the incident started when Aiya was spotted by family members talking to a young man outside her high school.

The father and Aiya's sister confront the young woman and took her home, where Mohammed Altameemi struck her several times. The girl's mother and sister admitted to tying her to a bed with a rope that was secured with a padlock and beating her.


Read more: http://www.dailymail.co.uk/news/article-2229264/Woman-get...
Follow us: @MailOnline on Twitter | DailyMail on Facebook