08 November 2012
Egypt Salafists briefly take hold of Coptic Christian land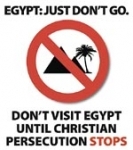 CAIRO: As tensions between Egypt's Christian minority and the Muslim majority continue to
increase, a Coptic Christian bishop told the state newspaper al-Ahram that a group of ultra-conservative Salafists had taken over land owned by Christians and made it a makeshift mosque for nearly 24 hours.
According to Bishop Morqos, a group of the Salafists – puritan Muslims – they occupied a small piece of land owned by the Coptic church on Monday and put up a banner that read "Al-Rahma Mosque" before the bishop and others forced them off the area after security officials were informed of the situation.
"Copts wanted to react to the incident, but I prevented them from doing so," Bishop Morcos was quoted as saying. "But I won't be able to hold them back from reacting forever."
The banner is to be removed, church officials were reported as saying.
In a statement posted on Facebook, Egypt's Maspero Copts Youth Union denounced the occupation and said it was the result of the state's failure to respond to earlier incidents of sectarian violence, including the burning of Christian churches that happened in the aftermath of the January 2011 uprising.