06 November 2012
Thug 'knifed British soldier to death in bar fight in Cyprus while high on drugs after North-South row' as three UK tourists are arrested over murder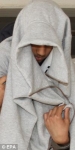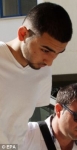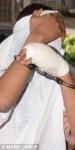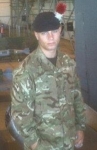 A British soldier killed in Cyprus was targeted by a gang of thugs high on drugs and carrying flick-knives who had a 'score to settle', a court heard yesterday.


Private David Lee Collins, 18, was allegedly stabbed through the heart by Mohamed Abdulkadir Osman when the pair met in a nightclub following an earlier row sparked by North-South rivalry.
The fight between the trio and the soldier had begun earlier in the day when Private Collins, from Manchester, taunted Londoner Osman about his home region. Osman told detectives that he was holding the weapon that killed the off-duty soldier in the early hours of Sunday but claimed he was acting in self-defence.Today, his parents Lee Collins, 41 and Lisa Minott, 37, paid an emotional tribute read out by uncle Winston Riley at the Fusilier Museum in Bury.
The family said: 'David was an amazing 18-year-old soldier with his whole life ahead of him. The Army was his number one priority in life and he proved to everyone that he could achieve this from a very young age.
'David always thought about everyone else before himself. We are all extremely proud of our little soldier and we are all shattered by our tragic loss.
'We are so happy that David was with his friends and colleagues at the Fusiliers at a memorable time of his life. We just hope that justice can do its course in Cyprus.'
David joined the Greater Manchester Army Cadet Force as a 12-year-old, and his family said he had 'always dreamed of serving his country'.
Fellow soldiers from the 2nd Battalion joined the family in paying tribute to 'a true fusilier'.
Yesterday Cypriot police re-arrested the 19-year-old and friends Tukki Abbas Shah, 17, and Umar Anwar, 17, all from London, on suspicion of premeditated murder.
Osman, who is of Somali origin, is alleged to have confessed to possession of high-strength cannabis and buying 11 flick-knives and two brass knuckle dusters in the popular holiday resort of Ayia Napa.
However, he has claimed he was intending to take them back to London for friends.
He admitted there had been a previous altercation between the off-duty soldiers and the trio before the fatal fight in the Black 'N' White nightclub.
But Osman maintained that Mr Collins, from Manchester, had 'jumped on to the blade' which he had drawn in an attempt to 'scare off' the soldier, who was enjoying a last night out before being sent to Afghanistan.
Famagusta District Court heard the police claim that three British passport holders had 'a score to settle'with Mr Collins and his comrades after an angry exchange in a pub in Ayia Napa Square, which was supposed to be out of bounds for British service personnel.
Cypriot newspaper Phileleftheros claimed that the exchange was 'racist', while another, Simerini, said it was the culmination of a petty argument.
Detectives are analysing CCTV footage of the area.
Lieutenant Stelios Christodoulou told the court: 'They had a score to settle. 'We are investigating whether the argument was about their different backgrounds, or whether they had met their victims before in England.'The fact that they took knives with them when they went out was suspicious.'
Police found two flick-knives – one with blood on the blade – outside the club following the fatal attack, the court heard. Lieutenant Christodoulou added that Shah – who, like Anwar, is of Pakistani origin – was seen dropping items shortly afterwards at the spot where the knives were later discovered.
Read more: http://www.dailymail.co.uk/news/article-2228090/David-Lee...
Follow us: @MailOnline on Twitter | DailyMail on Facebook