05 October 2012
Indiana man arrested, charged in Islamic Center arson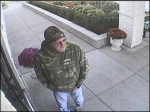 The Indiana State Police has released the name of the suspect accused of setting a fire in at the Islamic Center of Greater Toledo.
Randy T. Linn, 52, of St. Joe, Ind., was arrested at 3:30 p.m. today and charged with two counts of arson, and one count each of aggravated burglary and carrying a concealed weapon.
Authorities report that Mr. Linn was arrested without incident in a parking lot in the 7600 block of Opportunity Drive in Fort Wayne. He is being held in the Allen County jail in Fort Wayne, awaiting extradition to Ohio.
He is said to be the "person of interest" who was captured by a surveillance camera outside the center, 25877 Scheider Rd., during the fire. "We believe the person in the photos is the person we have in custody," said Shane Cartmill, spokesman for the State Fire Marshal's Office.
Perrysburg Township Police Sgt. James Gross said that charges were expected to be filed tomorrow in Perrysburg Municipal Court.
Crews responded to the fire at the center shortly after 5 p.m. Sunday. It was ruled an arson case on Monday.
Investigators have not released a motive.