05 October 2012
Egypt Christian boys, 9 and 10, taken from parents, arrested after accused of desecrating Qur'an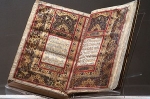 CAIRO: Two Egyptian Christian children, Nabil Rizk, 10, and Mina al-Farag, 9, have been taken from their parents and arrested after a Muslim
man accused the two youngsters of desecrating the holy Qur'an in a small village in Bani Sweif in the Nile Delta region.
They will face the public prosecutor on Sunday as the investigation begins.
According to reports, confirmed by local media, both secular and religious, the children are now facing an investigation for allegedly urinating on the holy book and putting it next to a mosque, al-Shorouk newspaper reported.
Rizk's father, Nabil, said his child cannot read and write and had been looking in the trash "for anything useful" when he found a small bag with pages from the Qur'an so he took them and placed it next to a mosque as he did not know what to do with it.
A meeting had taken place in the village in an effort to solve the crisis after the children were accused, but to the surprise of the villagers, children have been transferred to the junior holding facility pending investigation.
Heavy security has taken over the small Nile Delta village, which is home to 157 Christian families after fears of a confrontation between the residents arose.
According to Copts United, a Christian news organization and website, the families of the two boys are urging rights groups and organizations to help them free the children and to "have mercy" on them.
BM