07 September 2012
Immigrants Are 32% of the Spanish Prison Population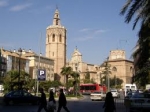 Yet more evidence of the holocaust of crime that the immigration mania of our elite has unleashed on the indigenous peoples of Europe. I should do a compilation post summarising the figures from different countries. In
this case, the 32% figure is probably an understatement for Spain as a whole because it excludes Catalonia. Catalonia is one of the most (perhaps the most) Muslim-colonised area in Spain so the figures from there would almost certainly raise the average further.
Thus, according to the report of ACAIP, which excludes the prisones in Catalonie because they are outwith the authority of this organisation, in the last 11 years the number of foreign prisoners in the Community [of Valencia] has increased by more than 256%, such that it has gone from 443 in January 2000 to 2,333 in July 2012.

While at the national level the average increased to 31.76% with a total of 19, 164 prisoners in the prisons under the authority of the General Secretary of Penitential Institutions - all except Catalonia - in July 2012.

With regards to the nationality of the prisoners, the most representative in the prisoners of the Community [Valencia] are those from Morocco, the most numerous (526), Colombia (326) and Romania (322), the same as in the rest of Spain, followed by prisoners from Ecuador and Algeria.

http://islamversuseurope.blogspot.co.uk/2012/09/immigrant...