07 September 2012
Controversial imam out at Northeastern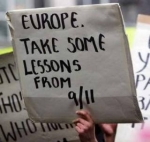 Northeastern University has informed a controversial religious leader that he would no longer be recognized as the school's Muslim chaplain. Abdullah Faaruuq, who is the imam
of the Mosque for the Praising of Allah in Roxbury, said he had served as volunteer chaplain at Northeastern for about 15 years.
The full version of this story is only available to online subscribers.
Non-subscribers may access the Candle Lighting Times and events calendars for free; to access all other content, please subscribe by following the link below.