29 August 2012
This is an image of the Facebook page which has generated controversy. (FACEBOOK)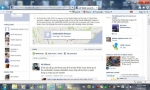 TORONTO - A Facebook page inviting people to walk their dogs outside an east-Toronto mosque is becoming a hotbed of hostility.
Facebook administrators removed a posting from the "Walk Your Dog at Mosque" web page early Monday that threatened to throw attending dog owners in a "lake of fire" and shoot their beloved pooches on the spot.
Posted by Ali Shirazi, who identified himself as an Iranian-born resident of Toronto, it threatened all dog owners who plan to attend the Sept. 14 event at the Salahuddin mosque and community centre in the Kennedy Rd.-Eglinton Ave. E. area
The Facebook page emerged in the wake of the Al-Quds Islamic rally held at Queen's Park just over a week ago. The yearly anti-Israel demonstration, started by Iran's Ayatollah Khomeini in 1979, was also attended by counter protesters, one of whom was a Jewish man who brought his 160-pound English Mastiff.
Allan Einstoss was arrested by police after getting into a scuffle when he was told by Muslim demonstrators to keep his dog away. His dog, Cupcake, was also kicked by at least on demonstrator.
Some devout Muslims believe dogs to be unclean and vehemently avoid them.
"I'll tie you all up and throw you all in a lake of fire if you show up at the Salahuddin mosque ... every dog will be shot on (the) spot," wrote Shirazi.
The top of Shirazi's profile page was decorated with the symbol of Zoroastrianism, a pre-Islamic doctrine promoting "good words, good thoughts and good deeds."
Facebook spokesman Meg Sinclair said administrators would keep an eye on the site for other threatening posts.
"We'll continue to remove specific posts on the page that violate (Facebook) terms, but the page as a whole is going to remain up for the time being," said Sincliar.
He added that Facebook has received complaints about the dog-walk page but declined to say exactly how many.
Shirazi's main Facebook page was also nowhere to be found as of late Monday, and messages left for him were not returned.
By late Monday, the dog-walk page listed 114 planning to attend the event and 1,550 still invited to take part.
Abdul Ibrahim, chief administrator for the Salahuddin mosque, said they would be ready for whatever trouble the dog-walk might bring.
"This is a community centre here, it has nothing to do with Al-Quds," said Ibrahim, adding that around 3,000 Muslims attend weekly. But Ibrahim also did not rule out the possibility of confrontation, and called on government for help. "Let them come, then what will happen will happen."