22 August 2012
NYPD probing a possible bias crime that could have marred Ramadan celebration on Staten Island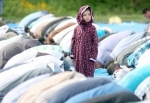 STATEN ISLAND, N.Y. -- It's being investigated as a hate crime -- someone scattered pieces of bacon over the New Dorp Beach field where the borough's Muslim community celebrated the end of Ramadan Sunday morning
But that act of desecration failed to ruin what organizers described as a successful celebration -- about 1,500 worshipers gathered at the John D'Amato Field at New Dorp Lane and Cedar Grove Avenue, unaware of the early morning police investigation that preceded the ceremony.
"Everything went smoothly," said Dr. Mohamed Sadeia, president of the Muslim American Society on Staten Island, which organized the gathering. "The community is really not aware of it.
Dr. Sadiea was one of a handful of organizers who noticed the uncooked bacon on a small section of the field at about 8 a.m.
He said he contacted police, but kept the incident and investigation quiet, because he didn't want to distress the adults and children gathering for morning prayers.
"They didn't want to ruin the happiness of one of the only two holidays of the entire year," said Hesham El-Meligy, the founder of the Islamic Civic Association-Staten Island, who said he didn't attend the outdoor ceremony but had heard about the incident.
An police spokeswoman confirmed on Sunday that the NYPD's Hate Crime Unit is investigating the incident.
Adherents of Islam are forbidden to eat pork.
The MAS held the outdoor Eid-ul-Fitr celebration in Midland Beach in 2010 and 2011. The outdoor celebration was part of an effort by the group to foster transparency and to define its own community in positive ways a decade after 9/11, organizers said in 2011.
Some mosques on Staten Island also held indoor prayers Sunday morning.
One of the religious obligations of Ramadan is giving to charity, and observant Muslims donate to the needy. The proceeds will be given to area non-profits, Dr. Sadeia said.
Muslims fast from sunrise to sunset during the month of Ramadan, which changes according to the lunar calendar and began July 20 this year.
Dr. Sadiea said he hopes the bias incident won't overshadow the positive message of the ceremony.
"It's very devastating that people are still thinking this way," he said. "It s a shame that this idea is still there. We're in the 21st century."
Added El-Meligy, "It's unfortunately a manifestation of the atmosphere and the irresponsible rhetoric of some politicians and some in the public."
-- Advance Religion Editor Maura Grunlund contributed to this report