16 August 2012
Bogor, after 6 years radical Muslims force closure of Saint John the Baptist Parish Church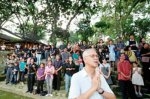 Jakarta (AsiaNews) - The non-issuance of the building permit (IMB) and - consequently - closure of the church of St. John the Baptist in Parung, in the regency of Bogor (West Java), are due to the opposition of a local village
chief and the Forum for Interfaith Dialogue. The charges are contained in a letter written by the parish priest, Fr. Aloysius Simbol Gaib Pratolo Pr, according to whom "All procedures to be made has been properly addressed, but we have not yet obtain support from local village chief of Waru". Added to this, the priest continues, is the obstruction of the Bogor inter faith forum which "continues to decline the invitation to sign the document." As a result the possibility is now remote that the local faithful will have a place of worship in which to meet and pray.

The process for building a church in Indonesia - Catholic or Protestant - is quite complicated and may take five to ten years to obtain all permits required by law. The procedure is governed by the Izin Mendirikan Bangunan(IMB), a species of written protocol that allows for construction to commence and is issued by local authorities. The story gets more complicated if it is a place of Christian worship: permission must be obtained from a number of residents in the area where the building is to be constructed and the local Group for Interfaith Dialogue. And even if the permission is granted "unspecified reasons" can come into play that will lead officials to block the projects. Often, this occurs after pressure from the Muslim community or radical Islamic movements.

On 6 August the security officials (the Satpol PP) in Bogor, West Java province, sealed off the Tulang Kuning "house of prayer" in Waru village, used by more than 6 thousand Catholics in the parish of St. John the Baptist. The faithful had used the chapel for six years on a regular basis for weekend liturgies and major Christian holidays, but in recent times they were being targeted by the authorities who - on three occasions - ordered the interruption of worshipp (see AsiaNews 07/08/2012 West Java: Catholics targeted by Bogor authorities, "house of prayer" closed down).

In the note the priest explains that the Christian community has gathered hundreds of signatures authorizing the construction of the building, including those of 13 village chiefs of the sub-district of Parung. What is missing is the signature of the head of the village of Waru, essential for the clearance, long promised but never received. "At least 200 local people - said Fr. Aloysius - have expressed their consent," but every effort seems useless. The block on the place of worship, the priest denounces, arrived 20 minutes from their being granted a letter of extension, which would have granted more time to obtain all the necessary permits.

Finally, the priest denies the charges made by the lunatic fringe of "fomenting religious intolerance". On the contrary, the presence of a Christian place of worship in the area "would also benefit the Muslim inhabitants of the area", because it creates a flow of people and encourages economic and commercial activities such as "stalls for the sale of food or other items. "