09 August 2012
Still no answers 6 months after Iranian student's killing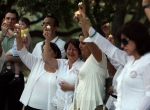 It's a case seemingly straight from a Hollywood thriller: An outspoken, fiery and beautiful Iranian molecular genetics student is gunned down as she turns in to the affluent townhouse complex she shares with her parents on a quiet street near the Galleria.
Police say the assailant fired fewer than five bullets at close range through the glass of her passenger window on Jan. 15 in the 800 block of Augusta, sending Gelareh Bagherzadeh crashing into a building. Her iPhone and a wallet stuffed with credit cards were left untouched. The car belonged to her father, a renowned chemist embroiled in an ugly lawsuit over $20 million.
Six months later, the lack of answers in her case has propelled it into a sort of Kafkaesque nightmare where everyone and yet no one is a suspect, with family and friends questioning each tie and interaction Bagherzadeh once had.
The nature of the killing, and of the 30-year-old herself - who had spoken passionately against the Iranian government and in 2011 converted to Christianity - fueled widespread speculation about whether foreign governments are to blame, or if it was an honor killing. In Iran, Christian converts are often executed.
And though Crime Stoppers is offering its biggest reward ever in her case - $200,000 - "only a handful" of tips have come in, said Sgt. J.C. Padilla, the Houston Police Department's lead investigator. If they had a suspect to focus on, Padilla said they have "conclusive forensic evidence" to compare, "but we're just not quite ready to rule anybody out."
Parents moved away
The case has been complicated by the possible Iranian link and the close-knit nature of Houston's Iranian community. Many have been either afraid to talk or reluctant to disclose details they consider private or disrespectful. Meanwhile, Bagherzadeh's parents, who dreamed of starting anew in the U.S., have sold their Galleria home, which they bought for their daughter, and moved in with their eldest son in Maryland.
"I'll never be happy again," said Monireh Bagherzadeh, the mother.
Born in France while her father was completing a doctoral degree, Gela­reh Bagherzadeh grew up in Tehran, where her dad spent 20 years at the government-run National Iranian Oil Company. His work focused on developing a catalyst to turn methane gas into ethylene - a process worth billions if successful.
In 2004, Ebrahim Bagherzadeh, his wife, and two sons moved to the U.S. to focus on developing such technology for Marcus Oil & Chemical, a company based in Houston.
Gelareh Bagherzadeh stayed in Tehran where she studied biology; she later transferred to a university in Budapest. In 2007, she obtained a tourist visa to the U.S. She flourished in Houston, studying English, teaching piano lessons, and helping with Farsi translation at Second Baptist Church. Soon, she enrolled at The University of Texas M.D. Anderson Cancer Center to study genetics. She had a wide circle of friends who were drawn to her infectious personality.
"Every time you hung out with her you always felt like it was really special, even if you did nothing," said Ashley Turner, a 32-year-old massage therapist and one of her closest friends. "She was just so excited about everything."
In the wake of Iran's 2009 presidential elections, widely regarded as fraudulent, Bagherzadeh joined dozens of Houston Iranians in protest. She was active in SabzHouston, formed to support the Green movement. At one such rally outside Al-Hadi Mosque, where activists denounced the mosque's alleged ties to the Iranian government, people inside were taking pictures of the protesters, said Kathy Soltani, 48, an activist friend.
She was outspoken
"Gelareh was screaming louder than anybody, as tiny as she was," Soltani said. "She said 'I'm so frustrated. I have to get my anger out.' "
Bagherzadeh had experienced how miserable life for women could be under Iran's oppressive regime; friends say she told them she was once arrested for not wearing the correct dress and had been strictly disciplined for dating a man who was considered inappropriate. In fact, she told them she was so sick of the regime and of Islam, she converted to Christianity and was baptized at Second Baptist Church, which she fervently attended.
But her passion often landed her in trouble. At church she criticized the longtime leader of the Persian Bible study group, embarrassing him in front of the class. She wrote letters to church leadership about practices she considered offensive, including asking converted Muslims to list their sins. She was outspokenly critical of Islam, even becoming embroiled in an argument with her father's bosses about their faith.
"When she totally believed something in her heart, she wasn't afraid of anything," said an Iranian friend from SabzHouston who attends Second Baptist but fears being identified in connection to these activities.
Father's suit settled
Meanwhile, her father's relationship with his bosses had soured. After five years of working on the technology, he had made enough progress in 2008 to file several patent applications. But he hadn't received any royalties as agreed. In a renegotiated 2008 contract with HRD Corp., which does business as Marcus Oil & Chemical, the company said they would pay him $20 million instead.
Shortly after signing the contract, the company fired Ebrahim Bagherzadeh. Though the $20 million was not contingent on his employment, the company didn't pay out, sparking three years of legal wrangling. Company officials and their attorneys didn't return calls seeking comment.
By December 2011, attorneys had agreed on a settlement: The company would pay Bagherzadeh $5.8 million, and he would keep the rights to his patents, according to his lawyer, L. Lee Thweatt.
A few weeks later, Gelareh Bagherzadeh was shot in her father's Nissan Altima at about 11:30 p.m.
She was chatting with a friend on the phone as she turned in to her complex. Her friend told police he heard her scream.
The tires screeched, and the Altima crashed.
Anyone who has information about this crime is urged to call Crime Stoppers at 713-222-8477.
http://www.chron.com/news