01 August 2012
Christian girls in Pakistan continue to be kidnapped, abducted and forcibly converted to Islam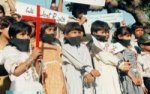 London: July 30, 2012. (CLAAS) In the recent months there have several reports about the ongoing persecution, kidnapping and abduction of the Christian women and girls in Pakistan. According to the news, a daughter of Morris Masih from
Rawalpindi was kidnapped by Mohammad Abid and Tariq Ali. Morris Masih has asked the police to register a case against Abid and Ali and recover his daughter, but they have refused to register the case. In another case, in Faisalabad Christian Waris Masih's wife was kidnapped, he has also reported it to the police, but they failed to give him any information about his wife.

Also in Chunian, Punjab, the sister of a pastor has been kidnaped raped and forcibly converted to Islam. Muzamal Arif, Pastor Aurangzeb's sister, was kidnapped around a month ago by some Muslim men while returning home from college. She was held for days, suffered sexual abuse, threats and violence. In such a state of terror and exhaustion, first she was coerced into converting to Islam, and then marriage. The girl is now a Muslim and married to Muhammad Nadeem.

Her family reported the incident to the police station in Chunian, but no investigations have been conducted and instead her abductors have presented a report to the court attesting to the girl now being Muslim and legally married. Among other things, the girl is a minor and, according to the law, marriage is not permitted to minors. However, according to local Christians, the kidnappers' family is rich and powerful and manages to bypass these legal measures.

For the last several years there has been an alarming increase in the kidnapping and false conversion of Christian girls.

According to a report from the Human Rights Commission of Pakistan (HRCP), last year 1800 Christian and Hindu girls were forcibly converted to Islam. The police hardly registered any cases against the

Muslim kidnappers and sometimes even supported them. On some occasions courts even used Islamic laws in favour of the perpetrators. This is a growing problem for Christians and Hindus and CLAAS has raised its concerns with the Pakistani government, but unfortunately it has fallen on deaf ears. Pakistan is becoming an increasingly unsafe place for religious minorities.
http://www.pakistanchristianpost.com/headlinenewsd.php?hn...