01 August 2012
120 Christian Families Flee Egyptian Village Following Death of a Muslim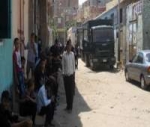 (AINA) -- The sectarian strife between Muslims and Christians which took place last week in the village of Dahshur has prompted over 120 Christian families to flee their homes today after news that a Muslim man who had
suffered 3rd degree burnsin the incident died this morning in a Cairo hospital. Before his death, the father and brother of Moaz Hassab-Allah told the media yesterday that should he die, "the whole village will avenge his death."
Coptic villagers were terrorized today after a Muslim Brotherhood cleric roamed the village vowing that the village church of St. George will be burned down, its pastor and all the entire Christian inhabitants killed and their homes torched after the burial of Moaz tonight, reportd Coptic activist Maariam Ragy.
Coptic professional garments presser Sameh Samy accidentally burned the shirt of his Muslim client Ahmad Ramadan. "They agreed to meet after the Muslim breaks his fast and settle the damage," said father Takla of St, George's church to MidEast Christian News, "however, Ramadan came back before the appointment." He added that after breaking their Ramadan fast nearly 2000-3000 Muslims congregated; Mr. Samy locked his launderette and his home.
Fighting broke out between the Muslims and Sameh's family, during which Molotov's cocktails, firearms and knives were used. The priest explained that Sameh faced this huge mob in "self-defense," threw a Molotov's cocktail which hit the passer-by Moaz.
"This made the villagers extremely angry and they torched his home and his launderette and his brother's home after they looted the contents, a loss of nearly 400,000 Egyptian pounds. They prevented the fire brigade from reaching the fire," said Takla. The mob wounded Sameh, his father, his cousin and another Copt. Father Takla said that over 500 moderate village Mulims stopped the Salafist mob from storming the church, until security forces arrived and secured it.
Prosecution ordered the arrest of five Muslims, while Sameh Samy, his father and brother were detained pending investigation on charges of attempted murder and possession of explosives. Today, prosecution renewed their detention for 15 days and changed the charged to contemplated murder. No Muslim has yet been arrested.
In another incident in Shubra el Khayma, Qaliubya province, On July 26, Dr Maher Ghaly looked out from his window at dawn and asked a group of Muslim Salafis who have a shop in the same building not to fire their weapons in the air in celebration of another day of the Ramadan fast. He explained to them that in his household there are sick persons and children who are greatly disturbed. "Their answer was to shoot at him. One of his eyes was blown away and there is no hope of replacing the cornea in his other eye," said his brother Fayez. He said that the Muslims wanted to break the main building door and go to his flat but were unable. "Although the police issued a report, they have done nothing to arrest the culprits."
Dr. Ghaly is hospitalized in the French hospital in Cairo.
Two days ago, a Muslim attacked a church in the area of Sheikh Zayed, Qaliubya. Prosection did not make any charged against him as he is "mentally unstable," and was subsequently released.
"Simce Morsy became President of Egypt, there is systematic persecuion of the Copts, " said Dr. Naguib Gabriel, head of the Egyptian Union of Human Rights Organization. He said that in the last ten days of the Muslim Ramadam fast, twelve incidents took place against the Copts, including the arrest of the six Copts in Dahshur, while no Muslim was arrested.
"Displacement of Copts has become fashionable," said Gabriel. "Now any small melee between a Muslim and a Copt is used by Islamists, turning it into a sectarian incident, pushing for Coptic arrests, torching of their homes or enforced displacement, while not a single action is taken against the Muslim culprits."
By Mary Abdelmassih