17 July 2012
Muslim holy period delays Sept. 11 case at Gitmo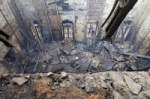 SAN JUAN, Puerto Rico (AP) — A U.S. military judge agreed Monday to postpone the next court hearings at the Guantanamo Bay prison for five men charged in the Sept. 11 attacks to avoid a conflict with the Muslim holy period of Ramadan
The judge issued a short order postponing the next pretrial hearings at the U.S. base in Cuba until Aug. 22-26 at the request of all five defendants, said James Connell, a lawyer for one of the accused.
The hearings had been scheduled to run from Aug. 8-12, which fall during the last 10 days of Ramadan, a period in which devout Muslims fast during the day and pray during the night. That would make it difficult for the accused to participate in their defense, said Connell, a lawyer for Ali Abd al-Aziz Ali.
"It's very difficult to pay attention to sometimes intricate legal proceedings when you haven't had any sleep and you haven't had any food," Connell said.
The judge, Army Col. James Pohl, denied a defense request not to hold any future hearings in the case on Fridays, a day on which many Muslims do not work and his order does not mention what will happen if future hearings fall during the month of Ramadan. The judge did not explain his decisions in the brief ruling.
Military prosecutors had opposed a defense motion to prohibit any hearings on Fridays or during Ramadan, saying to do so would eliminate about 20 percent of potential hearing dates from the calendar and make it difficult to schedule court sessions at the remote base.
The five defendants were arraigned at Guantanamo in May on charges that include murder and terrorism for their alleged roles aiding the Sept. 11 attacks, the worst terrorist attack on U.S. soil. The defendants include Khalid Sheikh Mohammed, who has told authorities that he was the mastermind of the plot, and all five could get the death penalty if convicted.
The judge will consider a number of procedural motions during the next round of pretrial hearings in the case. The actual trial is not expected to begin for at least a year