17 July 2012
Chicago imam: "Qital [killing] is an essential element of Islam"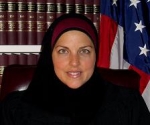 Sites exposing sharia and jihad come and with the exception of the big two, more often they seem to go. So it's nice to stumble on new blogs that expose the Islamic threat
here in the U.S. One site that has linked to us in the past few days is Just Piper. They write about a jihad-preaching Chicago imam whose not happy with our blog.
via Sharia 101 from a Muslim American perspective: Silence is not an option! | Just Piper.
In a speech by Abdul Malik Mujahid, Columbus, Ohio, September 1995., he puts out a Conference calling for Jihad:
Consider the following statement:
Qital [killing] is an essential element of Islam. And sometimes you don't like it. Qital is ordained upon you, though it is hateful to you, but it may happen that you hate a thing which is good for you, and it may happen that you love a thing which is bad for you….And one example is, now we have 60 or so Muslim countries, and not a single one of them wants to go for Qital and Jihad for Bosnia. Qital is ordained upon you though it is hateful to you.23

…

Misunderstanding and misinformation about Sharia, as well as Islamophobia in general, is fueled not just by television. The internet has increased the power of hate and misunderstanding several thousand-fold. Google the word "Sharia" and you will find false, negative, and highly anti-Islamic material among the top search results.

When we typed in the word "Sharia" on Google, here are some of the first results that showed up:

– Creeping Sharia
– 10 reasons no one should follow Sharia
– Muslim Women against Sharia
– Muslims against Sharia
Searching our archives Abdul Malik Mujahid's (mujahid = one who wages jihad) name has come up before.
An array of books is available on Islamic sites in the United States offering books for sale with titles such as "Commanders of the Muslim Army". What is noteworthy about this tome is that the publisher is none other then Abdul Malik Mujahid, the newly elected chairman of the Council of Islamic organisations of Greater Chicago (CIOGC) which is regarded as a mainstream Muslim organisation, but is part of a large Chicago Wahabist network closely aligned with the Bridgeview mosque Foundation, whose spokemen include Rafiq Jaber, is the head of the Islamic Association of Palestine, and Oussama Jammal, who claimed that Muslims were not involved in the 9/11 attacks. Jamal runs a film company and closely linked to Mujahid's Sound Vision which is a multi media Islamist propagation commercial enterprise.

Several Bridgeview Mosque Foundation members, including a the head of the Quranic Literacy Institute who claimed he was publishing religious texts, were recently convicted of terrorism funding in a case brought by the parents of American teenager David Boim, who had been gunned down at a bus stop by Hamas terrorists.

There are zero degrees of separation between The Council of Islamic Organisations of Greater Chicago, the Bridgeview Mosque Foundation and Hamas and Al Qaeda affiliated individuals and organistions.
And here.
Robert Spencer's book "Stealth Jihad," on pages 185-186, tells of Chicago Imam Abdul Malik Mujahid giving examples of Muslims enforcing Sharia compliance against interest payments, starting with a Muslim who refused to pay Internal Revenue Service penalty interest — and won his case. The Muslim's secretary (a non-Muslim) pointed out the section of the Qu'ran that forbid this and the IRS supervisor allowed this waiving of interest on religious grounds.

Imam Mujahid also gives the example of "a Muslim physician who was 'charged interest on a construction job because he inadvertently delayed payment of the bill for one month. He wrote to apologize for the delay and informed the authorities that Islam did not allow him to pay or receive interest on any transaction. Not only were interest charges removed, but an opportunity for Dawa came up' – that is, Islamic proselytizing."
Mujahid claims to be starting a new website and a major campaign for sharia law in the U.S.