06 July 2012
Welcome.. Mohamed Morsi !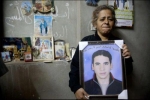 Good bye to justice .. , God give patient to his family ..

When a christian child goes to school and come back dead because in the eyes of his muslim school mate, he is a infidel, those children been brain washed at very young age.
Ayman Nabil Labib, 17 years-old man killed by his classmate in the school Bmiloa Minya in October 2011
Beaten and and stoned on his head that killed him inside the school.
The reason for the murder his refusal to take off his cross from round his neck.
Ayman died before he got to the hospital.As the official media was saying that the fight was over a seat that he wanted.
Did not interfere with the school administration in the prevention of heinous crime known that the school principal is extremist.
Today the court and the judge's rulingThe accused killers they were sent to 3 years prison for the murder of error.
That mean they beat him and smashed his head but because his heart was still working so thats why they did not get life or death sentence.
If that was a muslim child beaten by a christian person , you will find coptic homes bombed and burned to the ground and that person will be sentence to death.
Good bye justice