06 July 2012
Sex assault suspect appears in juvenile court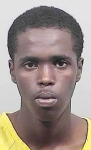 PORTLAND — A sexual assault suspect deemed a juvenile by a judge appeared at a detention hearing today.
Mohammed Mukhtar had been charged as an adult for gross sexual assault, burglary and other offenses in connection with a May attack on a woman. The defense argued that he was not 18 but 17 years old and that he, along with many other Somali refugees, had been assigned the birth date of Jan. 1 by U.S. government officials.
Superior Court Justice Thomas Warren ruled earlier this week that the state had not established that Mukhtar was an adult. Warren dismissed the adult charges against him.
Mukhtar made his first appearance in the case as a juvenile today. District Court Judge Jeffrey Moskowitz determined that there was probable cause to detain him.
Mukhtar was transferred from the Cumberland County Jail to the Long Creek Youth Development Center after Warren issued his ruling Monday.
Assistant District Attorney Stephen Dassatti said during the hearing that the prosecution will likely attempt to have Mukhtar tried as an adult. That process requires a hearing before a judge. It has not yet been scheduled.
Defense lawyer Jonathan Berry reserved the right to argue at a later date that information used to arrest Mukhtar is inadmissible.
Mukhtar was arrested after police matched a fingerprint on a condom wrapper to a print they took from Mukhtar a month earlier when he was allegedly driving without a license. Berry said that as a juvenile, Mukhtar should not have been brought to the jail and fingerprinted.
Mukhtar is accused of attacking a 50-year-old woman in a High Street apartment. The woman told police she sleeps soundly because of medication and woke to find a stranger assaulting her.