14 June 2012
Turkey: New law requires Islamic prayer rooms in all shopping malls, movie theaters, and other public spaces such as theaters and operas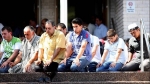 And the self-described "liberal Muslim" Mustafa Akyol is just fine with these new developments, which once again manifest Turkey's discarding of secularism and
gallop toward Sharia. Akyol praises "the rightful focus of Erdoğan and other conservatives on matters of religious freedom." (Apparently Akyol, like the mainstream media, would term pro-Sharia forces to be "conservative," while simultaneously labeling those who oppose Sharia as also "conservative.")
Akyol has revealed his true colors before, notably when he declared his support for the jihad flotilla that Turkey sent against Israel. The Turkish columnist Burak Bekdil has characterized the "liberal" Akyol as a pro-Sharia, pro-Erdogan Islamic supremacist. But undoubtedly a sly one. Bekdil says that Akyol is working to further "Islamists' global ambition to play the modern day, Muslim Trojan Horse at the gates of western civilization."
Consistent with that, Akyol here says that an Islamic Turkey is coming and that Turkish secularism cannot be salvaged, but that Israelis shouldn't be concerned: as long as they stop defending themselves against the Gaza jihadists and jihad flotillas, all will be well.
It would be refreshing if the many, many Americans who were taken in a few years back by Akyol's "moderate" act would reconsider now. But I am not holding my breath.
(Thanks to Joshua for the link to the story about Turkey's new law.)
http://www.jihadwatch.org/2012/06/turkey-new-law-requires-islamic-prayer-rooms-in-all-shopping-malls-movie-theaters-and-other-public-s.html