14 June 2012
TRIAL: Six Brierfield men accused of sex offences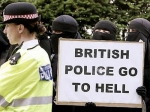 SIX men from Brierfield are due to stand trial next week charged with sex offences against a teenage girl.
Mohammed Imran Amjad (25), of Halifax Road; Haroon Mahmood (21), of John Street; Mohammed Suleman Farooq (22), of Berry Street; Omar Mazafer (21), of Halifax Road; Mohammed Zeeshan Amjad (24), of Halifax Road, and Shiraz Afzal (25), of Mansfield Crescent are all due to appear at Burnley Crown Court for trial on Monday.
The men are accused of various sex offences against a girl who was aged 14 at the time. Offences are alleged to have occurred between January 1st, 2010 and September 30th, 2010 at an address in Sackville Street, Brierfield.
http://www.burnleyexpress.net/news/local-news/trial-six-brierfield-men-accused-of-sex-offences-1-4628390