14 June 2012
Mily cops accused of gang-raping tourist girls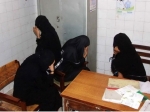 DERA GHAZI KHAN - The Border Military Police on Saturday arrested four men, including three colleagues, for gang-raping five female tourists in Fort Munro.
The accused kidnapped the victims from a checkpost and later committed the gang rape at a private house. Three of the culprits - Amjad Ali, Muhammad Zafar and Naveed Iqbal - are BMP personnel.
The victims were identified as Shama, Aalia and Guria, residents of the Data Darbar area of Lahore, and Saima and Sanam from Bahawalpur. On the other hand, Punjab Chief Minister Mian Shahbaz Sharif, while taking notice of the tragic incident, ordered the divisional commissioner of Dera Ghazi Khan to submit a detailed report on the issue within 24 hours.
Upon the orders of the judicial magistrate, a woman medical officer examined the gang rape victims and submitted her initial findings, while the samples were dispatched to a laboratory for further analysis.
According to police, the three officials of the BMP, responsible for maintenance of law and order in the tribal belt, stopped a vehicle, carrying five women and a man, for checking at the entry point of the hill station Fort Munro late Thursday night. As per the statement of the victims, they were allegedly kidnapped and taken to a private house where they were gang-raped by the three BMP officials and two others (one of them has been identified as Majeed Leghari while the other's identity could not be ascertained). The victims told media that they were set free on Friday morning, after which they reached DG Khan city and submitted an application to the political assistant for the registration of a case.
A senior official of BMP told reporters that a case (No 1/12) had been registered against the five accused, including the three BMP constables, after a medical examination of the victims at the DHQ Dera Ghazi Khan.
It must be mentioned that the incident took place on Thursday night within the precincts of the Fort Munro Border Military Police Station.
According to a private TV?channel, Prezident Zardari has taken notice of the incident and sought a report.
http://www.nation.com.pk/pakistan-news-newspaper-daily-english-online/national/10-Jun-2012/mily-cops-accused-of-gang-raping-tourist-girls