08 June 2012
KZN dorm: no bibles allowed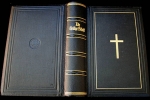 More than 70 students were kicked out of dormitories in a South Coast college for refusing to follow Islamic customs and rules, The Mercury reported on Thursday.
Management at the Coastal As-Salaam campus, in Braemar near Umzinto, allegedly forced students in the dormitories to study the Quran and wear Muslim clothes. They were reportedly not allowed to carry bibles inside the premises.
The students at the further education training college went on strike two weeks ago and lectures were suspended until Tuesday.
Those living in dormitories were told to find accommodation outside the institution.
The students, who are funded by the higher education department's national student financial aid scheme, told The Mercury they could not afford to pay for accommodation and meals as they came from poor families.
The head of the Coastal Central further education and training college, Patche Tigere, said he could not comment, but was working to resolve the matter.
Higher education spokesperson Vuyelwa Qinga said the department was in talks with college management and education officials in the province.
http://news.iafrica.com/sa/797642.html