07 February 2012
Was this boy beaten senseless because he's white? Teenager fighting for his sight after 'hate attack' by Asian gang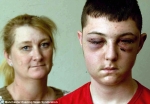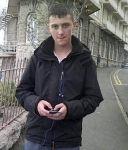 A teenager was left for dead after being chased and savagely beaten by a gang of Asians in a suspected racist attack.


Daniel Stringer, 17, was pursued through a busy town centre by up to eight men and then repeatedly kicked and punched in the head.
He was left in the road, bleeding and barely conscious, as the gang melted away into the night
Police say there is no evidence of provocation and are treating the attack as a serious hate crime.
Daniel's family issued pictures of the teenager lying seriously ill in hospital with a fractured skull and fractured eye socket. They say the nerves behind his eyes have been damaged and he could be left with impaired vision.

I wish someone would tell me why they left my baby for dead in the road,' said his mother Cheryl Stringer. 'I'm lucky to still have him.
Attack: Daniel Stringer-Prince, 17, has managed to open one of his eyes
'We don't know the extent of the damage behind his eye until his swelling goes down.
'He then needs plastic surgery on the eye socket that they broke in two places. He also has several fractures to his cheek that need plastic surgery and he also has a fractured skull.
'It's going to be a long, long battle for my gorgeous boy. I still can't understand why they left him in the road to die.'
Daniel, still in great pain, told how he was cornered by the gang after they chased him through the town.
'They were older than me,' he said. 'One of them grabbed me. He hit me in the face and that's about all I can remember.
'I'm upset and feel really down. Why me? I don't know why they chose me.'
The incident occurred at about 10.15pm last Saturday when he and his best friend Kavan Brown, also 17, were walking in Hyde, Greater Manchester, when they passed a takeaway.
Inside was a group of Asian men and a woman Without provocation one of the men produced a knife and made a threatening gesture at the teenagers through the window, suggesting they were going to have their throats cut.
The pair walked on, but moments later the group spilled into the street and began to run towards them. Daniel fell over and was set upon as he lay on the ground.
He had emergency surgery after the attack and will need to return to hospital when doctors attempt to rebuild his right cheek with a metal plate.

Kavan, whose nose was broken in the attack, said: 'I just can't understand why it happened. I'd never seen any of them in my life before.'
Police said there were seven or eight offenders who are described as being Asian and in their late teens or early 20s.
They are investigating the assault as a hate crime.
Last night police had a man of 21 in custody on suspicion of assault.


Read more: http://www.dailymail.co.uk/news/article-2097330/Daniel-St...