05 January 2012
Christian Persecution Increased Most In Sudan, Nigeria, Report Says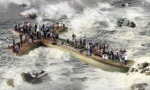 Sudan and northern Nigeria saw steeper increases in persecution against Christians than 48 other nations where Christians suffered abuse last year, according to an annual ranking by Christian support organization Open Doors.
Sudan – where northern Christians experienced greater vulnerability after southern Sudan seceded in a July referendum, and where Christians were targeted amid isolated military conflicts – jumped 19 places last year from its 2010 ranking, from 35th to 16th, according to Open Doors' 2012 World Watch List. In northern Nigeria, a rash of Islamist bombings, guerrilla-style attacks and increased government restrictions on Christians contributed to the region leaping by 10 on the list, from 23rd to 13th place.
"Nigeria continues to be the country where the worst atrocities in terms of loss of life occur, with over 300 Christians losing their lives this year, though the true number is thought to be far higher," according to the Open Doors report, noting that the Islamic extremist Boko Haram (literally, "Western learning is forbidden") became increasingly violent across the reporting period through most of 2011.
As it has the previous nine years, North Korea topped the list as the country where Christians are most persecuted, with a persecution index of 88. The list is based on a questionnaire filled out by Open Doors in-country field personnel and cross-checked with independent experts. Countries are then ranked according to their points total, or index.
Both Sudan and northern Nigeria saw their persecution indices rise more than other countries' – Sudan by 16.5, from 37 in 2010 to 53.5 last year, and northern Nigeria by 9, from 44 to 55. The persecution index for three other countries rose by at least 5 points – Egypt from 47.5 to 53.5, Ethiopia from 30 to 36, and Indonesia from 26.5 to 31.5.
In terms of ranking, Egypt landed at 15 in the 2012 list after being ranked 19 last January, before political chaos loosened the grip on Islamic extremists; Ethiopia went from 43rd to 38th place, and Indonesia from 48th to 43rd place. Most of the countries on the list, 38 out of 50, have an Islamic majority – including nine of the top 10.
"As the 2012 World Watch List reflects, the persecution of Christians in these Muslim countries continues to increase," said Carl Moeller, president/CEO of Open Doors USA. "While many thought the Arab Spring would bring increased freedom, including religious freedom for minorities, that certainly has not been the case so far."
In the case of Sudan, the secession of mainly Christian southern Sudan left Christians in (north) Sudan "much more isolated under President Omar al-Bashir," who is wanted for crimes against humanity, according to the Open Doors report.
"In response to the loss of the south, he has vowed to make his country even more Islamic, promising constitutional changes," the report states. "On the ground, however, Christian communities have been attacked in complex battles over resources, and estimates of thousands killed by the Sudanese military are known of, yet impossible to verify."
Territorial violence flared on border areas with South Sudan in the provinces of Abyei, South Kordofan and Blue Nile, and "Christian communities were disproportionately affected," according to the report.
In Egypt, a bomb attack on a Coptic church in Alexandria killed at least 21 Christians on New Year's Day, 2011, and the Feb. 11 ouster of President Hosni Mubarak was followed by a series of Islamic extremist attacks on Christians that culminated in the Maspero massacre in Cairo on Oct. 9, "when the military turned on its own citizens," killing 27 Coptic Christian demonstrators, the report notes.
"Some were shot by soldiers or ran over by tanks, while others were killed by Muslim extremists," the report states. "At the closing of 2011, Islamist parties flourished in the November elections, prompting some to speak of an Arab Winter instead of an Arab Spring for Christians."
China moved from 20th place to 21st on the list, "mainly due to other countries comparatively getting worse," though it still has the world's largest persecuted church of 80 million, the report notes. That it dropped out of the top 20 this year "is due in large part to the house church pastors knowing how to play 'cat and mouse' with the government," the report states – that is, knowing how not to attract the attention of authorities, such as not putting up church name signs, limiting worship attendance to no more than 200, and not singing too loudly.
A new addition to the list is Kazakhstan at 45th place, and Colombia returned to the list at 47th after being absent in the 2011 and 2010 editions.
Kazakhstan moved onto the list due to the passage of "an invasive and restrictive religion law" requiring the re-registration of all religious communities, the report notes. The law will make youth work virtually illegal and put all religious acts under government scrutiny, it adds.
Colombia had been included on the World Watch List annually before 2010, with left-wing insurgencies as well as paramilitary groups targeting Christian pastors. During the reporting period these movements "have branched into narco-trafficking, and Christian leaders that will not cooperate in the drug trade are targeted for assassination," the report notes. "Five were killed this year, and it is thought the number could be as high as 20."
After North Korea, the top 10 on the list are Afghanistan, Saudi Arabia, Somalia, Iran, the Maldives, Uzbekistan, Yemen, Iraq, and Pakistan. Pakistan entered the top 10 for the first time with a spike in radical Islamist violence that included the assassination of the nation's highest-ranking Christian politician, Federal Minister for Minorities Affairs Shahbaz Bhatti, for his efforts to change Pakistan's blasphemy law