30 December 2011
Muslim villagers burn houses of Christian family Upper Egypt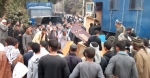 Dozens of residents of the village of Baheeg in Assiut, Upper Egypt, burnt three houses owned by a Christian family after a Christian villager allegedly published cartoons mocking Islam on his Facebook account.
number of Muslim students attacked their Coptic classmate for posting the cartoons, a Muslim student told Al-Masry Al-Youm.
The Muslim students attacked the Coptic student on Thursday at Monqebad Secondary School in Assiut. Eyewitnesses said the military intervened to break up the fight and escorted the Coptic youth and his family away from the village. Later, Muslim villagers set fire to the family's houses.
Firefighters extinguished the blaze and armed forces and police imposed a security cordon around the site of the incident.
Major General Mohamed Ibrahim, director of security in Assiut, said security forces are attempting to coordinate with Muslim clerics to calm citizens and contain the situation.
Christians make up about 10 percent of the population in Egypt, which totals around 80 million people.
Translated from Al-Masry Al-Youm