27 December 2011
Georgia woman who threatened 2 New York lawmakers is shot to death by cop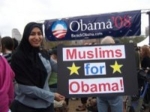 A Muslim woman who had been charged with sending fake weapons and a pig's foot to two New York lawmakers was killed during a struggle with a cop in Georgia on Sunday, authorities said.



Jameela Barnette, 53, of Marietta, was slapped with federal charges last month for sending New York State Sen. Greg Ball (R,C-Patterson) a vial of perfume, a hate-filled letter and a doll of the monkey Curious George wearing two Stars of David.
She had also mailed a pig's foot to Rep. Peter King (R-L.I.) in response to controversial hearings he held in March on the purported radicalization of American Muslims, Politico has reported.
A spokesman for Cobb County Police said an armed Barnette was shot to death after officers responded to a panic alarm she activated at her apartment at 11 a.m. Christmas Day.
When the cops arrived, Barnette opened the door while wielding a knife and a handgun and assaulted an officer with the blade, the spokesman said.
The unnamed officer shot her, killing Barnette at the scene, police said.
"Despite receiving injuries to his arm, the officer was able to use his service weapon to stop the assault," the spokesman said.
The cop was treated for minor injuries to his arm and placed on administrative leave pending an investigation.
Police said they did not know why Barnette triggered the alarm.
Barnette railed to several media outlets against what she called anti-Muslim congressional hearings last spring. She told a local TV station she sent Ball, who represents Putnam County and parts of Westchester and Dutchess counties, the threatening package because he's racist toward her faith and supported King's hearings.
"I knew the Jews were behind the hearings," she told Politico. "A monkey is a representation of who the Jews are."
A judge released Barnette without bail after her arrest in November.
Both Ball and King are Catholic.
oyaniv@nydailynews.com
Twitter.com/NYDNBklynCt


Read more: http://www.nydailynews.com/new-york/georgia-woman-threate...