25 December 2011
Christmas bombings kill 40 in Nigeria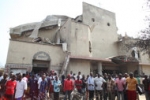 A series of Christmas Day bomb attacks targeting churches and a suicide blast in Nigeria killed at least 40 people amid spiralling violence claimed by Islamists
The government blamed Islamist group Boko Haram and a purported spokesman of the sect claimed responsibility for the bloodiest attack, against a church outside the capital Abuja, and for other deaths.
The wave of killings stoked fear and anger in Africa's most populous nation and drew worldwide condemnation, with the White House decrying the "senseless violence" and the Vatican blaming "blind hatred".
Some victims at the Catholic church outside the capital -- where 35 people were killed -- ran toward a priest with dying pleas to be blessed, including one man who was mortally wounded.
President Goodluck Jonathan called the wave of attacks "an unwarranted affront on our collective safety and freedom" and pledged to bring the perpetrators to justice.
His national security adviser blamed Boko Haram for the attacks that saw worshippers killed as they were leaving church and burnt inside their cars. He said two people behind the bombing near Abuja were arrested.
Nigerian authorities were unable to prevent the attacks despite military crackdowns and claims of arrests of Boko Haram members in the country, which is divided between a mainly Muslim north and mostly Christian south.
One attack on Sunday saw a suicide bomber seek to ram a military convoy in front of a secret police building in the northeastern city of Damaturu, in an incident that killed the bomber and three security agents.
The area around the church blast outside the capital degenerated into further chaos after the attack, with angry youths starting fires and threatening to rush a nearby police station.
Police shot into the air to disperse them and closed a major highway. Emergency officials called for more ambulances as rescuers sought to evacuate the dead and wounded, before calm later returned to the area.
Other attacks included a bomb blast outside an evangelical church in the central city of Jos. A policeman who engaged the attackers was shot dead, said a spokesman for the governor, adding that one person was arrested.
Another explosion targeted a church in the northeastern area of Gadaka on Christmas Eve, but no one was reported killed.
Two other blasts hit the northeastern city of Damaturu on Christmas Day, including the suicide bombing.
Holes could be seen in the wall of the St. Theresa Catholic Church in Madalla outside Abuja, the roof was badly damaged and a number of cars were destroyed from what looked to be a powerful blast.
National Security Adviser Owoye Azazi said in a statement that Boko Haram members threw improvised explosive devices from a moving vehicle.
Father Christopher Barde told AFP that the attack happened as the Christmas morning service was ending, and some of the wounded ran toward him for blessings, including one person in a critical state.
"It was really terrible," said Barde. "Some people ran towards me -- (saying) 'Father anoint me'."
Benjamin Ekwegbali, a social worker at the church, described scenes of horror and destruction, with "corpses littered everywhere".
"When the mass was over, all of us were coming out," he said.
He described a "very loud sound. It shook everywhere. When I looked back to see what happened, it was difficult to see anything. Everywhere was dark. Fire was burning."
Nigerian police affairs minister Caleb Olubolade visited the scene and said "this is like an internal war against the country".
Boko Haram, whose name means "Western education is sin", has claimed responsibility for scores of attacks in Nigeria, including the August suicide bombing of UN headquarters in Abuja that killed at least 24 people.
A string of bomb blasts in the central city of Jos on Christmas Eve 2010 was also claimed by Boko Haram.
In recent days up to 11 people were killed in three cities in the northeast in attacks blamed on the sect followed by a heavy military crackdown, authorities and a rights group have said.
Violence blamed on the sect has steadily worsened in recent months, with bomb blasts becoming more frequent and increasingly sophisticated and death tolls climbing, with at least 280 people killed since November.
There has been intense speculation over whether Boko Haram has links with outside extremist groups, including Al-Qaeda's north African branch.
It launched an uprising in 2009 put down by a brutal military assault which left some 800 dead, then went dormant for about a year before re-emerging in 2010 with a series of assassinations.