15 December 2011
Imam says Muslims being persecuted like Jews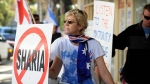 OTTAWA – A Calgary-based Imam says Muslims are being attacked in the same way Jews were before Hitler ordered their extermination.
Syed Soharwardy, founder of the Islamic Supreme Council of Canada, says a regulation change requiring Muslim women to remove their niqabs and burkas when swearing the oath to become a Canadian amounts to Muslim bashing.
From intimidating and bad-mouthing the Muslim faith and belittling the Koran and Muslim beliefs, he drew a parallel with the treatment of Jews in Germany.
"Muslims are going through that situation right now that the Jews faced before the Holocaust," Soharwardy told CFCN TV in Alberta.
"That was going on in Germany before the Holocaust, same thing is happening now about Muslims. So this is absolutely an alarming situation."
A Queen's University expert on constitutional law specializing in women's rights says Kenney is conforming regulations to "his stereotype of the 'good' Canadian woman."
And professor Bev Baines said the changes could violate the Charter.
"The Charter should protect women who wear the niqab when they assert a nexus between their right to gender equality and their right to freedom of religion," she says.
Shahina Siddiqui, executive director of Winnipeg's Islamic Social Services Association, said Kenney has pushed the envelope too far.
"People need to pay attention because today it is the niqab, tomorrow we could have a minister who doesn't like nose rings…Like, where do you draw the line?"
Kenney says the issue is not about religion, and says if Muslim women don't like the changes they picked the wrong country to call home.
"This decision underscores the essentially public nature of the oath," he said in the Commons.
"It also underscores our belief in social cohesion and such democratic values as the equality of men and women and our equality before the law."
Twitter: @MarkDunnSun