15 December 2011
Egypt summoned ambassador over Wilders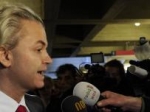 Egypt is concerned about a book that Freedom Party leader Geert Wilders plans to publish in the spring. Earlier today, the German Press Agency DPA reported that Dutch ambassador Susan Blankhart was summoned by the Egyptian Foreign Minister in November to explain anti-Islamic comments by the controversial MP.
According to diplomats, Egypt says it is unable to ignore Mr Wilders' unacceptable behaviour. In early November, Egypt refused to issue a visum to Freedom Party MP Raymond de Roon after he had accused Cairo of the ethnic cleansing of Christians Copts. As a result, a parliamentary foreign affairs delegation of Dutch MPs cancelled a working visit to the Arab country.
A spokesperson for the Dutch Foreign Ministry says various issues were discussed at the meeting on 21 November, including the publication of Mr Wilders' book. The ambassador told the Egyptian authorities that freedom of speech is a right in the Netherlands and everyone is at liberty to write a book. The book, which is believed to be about the history of Islam, argues that the religion is an ideology.
In response to the news, Mr Wilders said: "Fortunately we have freedom of opinion here. The Egyptian military regime should concern itself with the rights and protection of Christians in Egypt and preventing further bloodshed rather than worrying about me."
http://www.rnw.nl