24 November 2011
Punjab, Catholic activist murdered by Muslim Mafia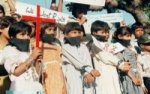 Akram Masih, married and father of four children, was killed last night by an armed commando close to Muslim landowners. For years the man was the target of threats, for his strenuous battle to defend the rights of minorities. Local Priest: Muslims landowners "steal" Christian property with the support of authorities.
Islamabad (AsiaNews) - A group of men linked to the land mafia, led by Nadeem Ashraf, has murdered Akram Masih, a Pakistani activist, a married father of four children, in Khurda Renala, Okara district in Punjab province. According to preliminary reports the crime took place around 10.30 last night. Local church sources report that the man was a devout Catholic, committed to social problems, who fought with dedication and passion for the rights of religious minorities in the area. Among the many battles waged, Akram Masih had recently launched a campaign against the rich landowners who arbitrarily confiscate the land of Christian peasants.

Last year alone he, together with some members of the Catholic Church had "saved" two Christian schools on the verge of being seized by landlords with the backing of local authorities. From that moment Masih continued to receive constant death threats culminating in yesterday evening's assasination. Fr. John Joseph, a priest at Renala Khurda, confirms that "for months" Muslim landowners have been trying to steal land from Christians, with the support of the authorities. " Akram Masih added that the priest "has always courageously opposed this" and never allowed them to "carry out their evil plans." The area included in the Okara district is famous for its fertile soils, where potatoes, tomatoes and rice are grown. Three weeks ago Masih bought a small plot of land, , which the local mafia has been trying to expropriate. Personal threats again ensued and a complaint to the police proved useless, as the officers did not even launch an investigation.

Speaking to AsiaNews Fr Shahbaz Aziz, from Okara district, said last night "around 10.30 several gunshots were heard " and "at 11 Akram Masih was found dead " near the place where he lived with his family. The priest adds that "Nadeem Ashraf is the strong man of the area" and "head of the local land mafia " with his brothers he "has repeatedly threatened Masih" leading to the death of the Christian activist. Fr. Aziza states that "the body shows signs of torture," but the police - even if forced to open a file – have shown no special interest or effort in finding the killers.

In 2003, Fr. George Abraham was killed in similar circumstances in the area. He was also an activist for minority rights and a staunch defender of their property, under threat of confiscation by the rich landowners Muslims. "Christians in the region - said Father Shahbaz Aziz - are humiliated, and cases of persecution are common. How many lives will still be broken, before the Punjab government intervenes? ". And how much blood, he asks, "will still have to be spilled?".