22 November 2011
NO CHRISTMAS STORY FOR DANISH KINDERGARTEN THIS YEAR, STAFF DOESN'T WANT TO UPSET MUSLIMS…….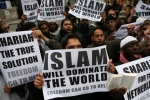 A dear friend of the Tundra Tabloids mentioned the following concerning this story in the FPN.DK. We were both aghast at the ease in which portions of society, in the willingness to be tolerant, would so brazenly discriminate against members of its own society. KGS
NOTE: Remember folks, rejection of Islam, just the saying no to it, is tantamount to charges of discriminationa and bigotry….islamophobia.
Chipping away at the host society's foundation, one little piece at a time, until that society finally accepts that it has no right to be different to the immigrants to whom it has extended a helping hand out of sheer naivity and well-intentioned but ultimately self-destructive sincerity.

I just don't get it. We're Jewish – and Zionist – and proud of both. When our kids were at school and the autumn term came to an end, there was the traditional end of term celebration in the church. It is merely TRADITION, not forced conversion, for heaven's sake. Our kids survived, and survived very well. They are still Jewish, very much so. We have chosen to live in a nominally Christian country, where people celebrate things like Easter, Christmas, Midsummer, even Crayfish Premiere. Jews don't eat crayfish – should we insist that the nation change its tradition to accommodate us? Absurd beyond belief.
The staff has decided not to participate in the traditional Christmas service in Lillerød Church because a high proportion of children in the institution are Muslims.
"The reason is that we have several Muslim families who do not want their children to go to church. And so we decided to say "no thanks" because we also have our everyday work," said Susan Lund Andersen, the headmaster of "Ørnevang" to Jyllands Posten.
The decision to drop the Christmas church service causes great annoyance at the vicar of Lillerød Church who believe that the Christmas worship service is an important part of the Danish Christmas tradition.
Would amend the program
"I was upset and annoyed that they cancelled. They called and asked if I could make the program so they could participate. I always end the ceremony with the bright blessing of the children, and they wanted me to refrain from that for the sake of the children's religion," says Carsten Mulnæs who is the vicar.
He believes that "Ørnevang" – the institution – has taken a wrong decision because now all the kids are unable to attend the Christmas service.
"I believe that children should have the opportunity, because it is a Danish tradition. I know that the institution has a large representation of Muslim children, but I know that not all families have a problem with going to church. I think a majority of the kids will be cheated, "says Carsten Mulnæs.
It affects integration
The organization Muslims in Dialogue is sorry that the neglect impacts the children who would like to go to church.
"I think it's a shame if it goes beyond the children who actually wanted to go to church. But on the other hand, I do not think one should force anyone to participate, who do not want to, whatever religion they belong to, "says Vice President Nihad Hodzic.
The act made Carsten Mulnæs write a reader posts in today's edition of Frederiksborg County newspaper, where he emphasizes the church's role in integration.
"You can not integrate into nothing. But that is exactly what we risk as with that kindergarten: Nothing. It is not respect for Muslims, but disrespect for our own history."
The service is not crucial
The argument that the Christmas worship service is important for integration has not the great impact among Muslims in Dialogue.
"I understand that the priest gets upset that the institution refuse to go to his church, but I do not believe that it actually works against integration. Personally I have never participated in a Christmas sermon, and I do not think that it is essential for integration, "said Nihad Hodzic.
http://tundratabloids.com/