10 November 2011
Female Salafist candidate is using her husband's photo on campaign posters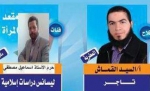 A female candidate in Egypt from the conservative Salafist party al-Nour is campaigning in an interesting manner: instead of putting her face on her campaign posters, she is using the likeness of her husband.
Marwa Ibrahim al-Qamash, who is running in the ad-Adaqahliyah province, initially used a flower as her campaign photo, but after sarcastic remarks about the campaign appeared on Twitter the flower picture was removed from her posters and her husband's photos appeared.

However, replacing the flower photo with her husband's picture did not stop Egyptians from deriding and ridiculing the woman and her campaign, again, on twitter. The woman is said to have a bachelor's degree in Islamic studies.

A salafi is a follower of the puritanical Islamic movement Salafiyyah, which follows the examples of the Salaf, or predecessors, who lived during the early period of Islam, allegedly imitating the Prophet and his companions.

Meanwhile, other political parties in Egypt accuse the Salafists of receiving support from abroad, a claim that the Salafists reject, saying that they are a popular choice among mainstream Egyptians.

There are now 14 Islamist parties in Egypt, a marked difference from less than a year ago; the parties were banned under Hosni Mubarak's rule.

Most Salafi women in Egypt cover their faces in public.
http://english.alarabiya.net