07 November 2011
Leeds teenager victim of attack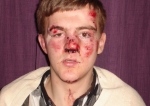 A 16-year-old suffered serious injuries when he was kicked and punched by a gang after a Halloween party
Joshua Longford, from Bramley, Leeds, had earlier tried to calm problems when a group began pushing the male host of the party at the Club Estark at the Gallagher Leisure Park complex in Dick Lane, Thornbury, on Friday night.
Joshua, a drainage worker, said: "I just said 'leave it out, we are all here just to have some fun". The group appeared to calm down and walk away.
But when Joshua later left the club between 10pm and 10.15pm one of the youths came up to him and punched him. He tried to walk away but a dozen others began running at him. He dashed to the nearby Odeon cinema where he knew his father and partner were watching a film. But the door was locked.
Joshua suffered a blow to the head and crashed to the ground. The group launched into a vicious attack kicking and punching him.
He said: "It seemed to go on for ages. I think it stopped when the police car arrived and they ran off." No-one had intervened but soon after the attack a young man he had met that night arrived to care for him.
Joshua was taken to Leeds General Infirmary where he was found to have a smashed nose, black eyes and cuts and bruises to his face and arms.
Joshua's father Allan learned of the attack when he reached his partner's home to find the police had been round.
Mr Longford said: "When I first saw him I could have cried. I was so angry. Joshua looked like he had been in a car accident. Those who attacked Joshua behaved like animals."
Mr Longford paid tribute to the young man - a stranger to Joshua up till that night - who had gone to hospital with his son.
A spokesman for North West Leeds Police said one suspect was described as Asian, about 5ft 5in tall, skinny and aged 16 to 17, with short black hair. The rest of the group were described as Asian males aged 15 to 20.
Any witnesses or anyone with information about those involved is asked to contact PC Simon Jaggar at Weetwood police station via 0845 6060606 or Crimestoppers on 0800 555 111.
http://www.yorkshireeveningpost.co.uk/